Corey Manning, co-owner of Chateau Diana Winery in Healdsburg, Calif., knew he had to do something because he was paying nearly as much to ship 750 ml bottles of wine direct to consumers as he was to make the wine. He turned to the manufacturer Amcor Rigid Packaging, which produces polyethylene terephthalate, or PET, bottles.
Manning said he's been able to reduce his shipping costs by replacing glass bottles with those made from PET, and he hasn't received push back from customers. They won't replace glass bottles entirely, as Château Diana continues to use glass for more premium wines. But Manning said 750 ml filled PET bottles, which weigh about one-third of comparable filled glass bottles, are a good fit for their value-priced lines and direct-to-consumer business.
Even with some wineries looking to alternative packaging for some markets, Scott DeFife, executive director of the Glass Packaging Institute, said his members haven't seen a decrease in demand for glass bottles. In fact, DeFife said, just the opposite is true with domestic glass container plants shipping about 1.82 billion wine bottles through November 2022. That's up 17 million bottles from the same period through November 2021. The vast majority of those were 750 ml.
"The industry is doing really well," he said.
DeFife, who represents the North American glass container industry, said most of his members continue to address weight and shipping concerns by manufacturing lighter-weight bottles. Compared to 20 years ago, today's bottles are 30% to 40% lighter, he said.
"Data shows the majority of the 750 ml bottles are actually lightweight and medium-weight bottles," DeFife said. "So the production of lighter-weight glass bottles is up significantly from where it was, and in many cases, it's the majority of bottles you can get."
But freight costs are just one part of the sustainability equation, he said. One of glass' attractions is its physical composition, which acts as a natural barrier to prevent oxidation, product interactions or external influences. For wines designed to age in the bottle, DeFife said this is a big draw.
"Anything that's going to age, you're going to want it in glass, and that goes to waste, food waste and shelf life, which are also important to sustainability," he said.
Reduce, Reuse, Recycle
Glass also can be readily recycled and made into new bottles countless times without loss of quality or purity. DeFife said. Raw materials used to make glass include readily available sand, soda ash, limestone and cullet, an industry term for recycled glass. And up to 95% recycled glass can be used in place of raw materials to make new containers.
DeFife, who also serves as president of the non-profit Glass Recycling Foundation, admitted the California statewide consumer recycling rate for wine and spirits bottles could be better. But he pointed to Senate Bill 1013, which Gov. Gavin Newsom signed in September 2022, as a way to address that.
Beginning Jan. 1, 2024, the bill establishes a 10-cent California redemption value, or CRV, on most wine and spirits bottles. It also sets a 25-cent CRV on difficult-to-recycle wine packaging, such as boxes, bladders and pouches.
The legislation's authors, President Pro Tempore Toni G. Atkins, D-San Diego, and Sen. Bill Dodd, D-Napa, said they wanted to enhance wine and spirits bottle recycling. Those containers currently are not covered by the California Beverage Container Recycling and Litter Reduction Act passed in 1986.
The lawmakers estimate that California generates more than 500 million wine and spirits bottles annually, with less than 30% being recycled and more than 300 million ending up in landfills.
DeFife, who was involved in bill negotiations on behalf of his members, said it can only help but enhance the industry's sustainability efforts.
"We think that the West Coast and the wine regions of the country are going to see some of the most sustainable glass bottles in North America," DeFife said. "The recycled content rate is high and growing, and the recovery rates and the recycling rates are going to go up to well above national average."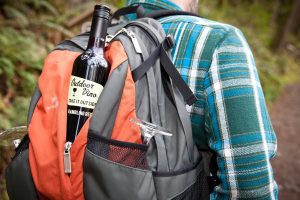 Similar Path to Screw Caps
Manning said he likes to compare the industry's current packaging evolution to where it was in the 1990s when screw caps started making inroads. Back then, many people criticized the closures. But today, consumers widely accept them on many types of wines and in many price sectors.
"We were one of the first people to jump on screw caps because it made sense for what we were doing," he said. "We were trying to develop an economical everyday wine that people could enjoy. Moving ahead into this, it's the same premise, the same experiences. We saw potential pushback, but our position was we want to try it. We live in California, and we're really lucky to benefit from the economics. But people in the rest of the U.S. don't have the money to spend $25 for a bottle of chardonnay."
For more than a decade, many wineries have slowly switched their single-serve offerings from glass bottles to containers made from alternate materials as a cost-cutting measure. PET bottles' popularity has grown because they have the same shelf appeal as glass but with less weight, said Matt Shaieb, commercial sales director for Amcor Rigid Packaging.
By nature, PET is a porous material, which can potentially lead to oxidation and an off-flavor over time. To address that, he said Amcor applies the ultra-thin KHS Plasmax silicon oxide barrier coating to the inside of their containers. A glass-like material, Plasmax is Food and Drug Administration-compliant and fully recyclable.
Manning said he, too, had heard concerns about PET bottles imparting an off-taste to wine. But in taste tests where wine was stored for up to a year in the containers, he said they found no sensory issues. Manning said they haven't gone past a year because most of their value-priced wines are consumed less than a year after bottling.
Because of their portability, the single-serve 187 ml size has become popular for use on airplanes, in the hospitality industry, in sports venues and for other activities where glass isn't convenient. The bottles are about one-sixth the weight of comparable-sized glass containers, Shaieb said.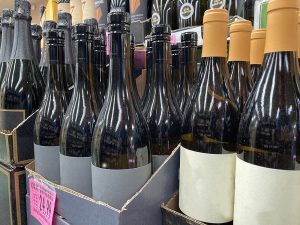 In addition, larger sizes of PET bottles have made inroads into the spirits business. But 750 ml PET bottles are relatively new to the wine industry.
The potential for cost savings seen with 187 ml bottles was what attracted Chateau Diana to try PET for industry-standard 750 ml bottles.
Manning said a case of wine using 750 ml glass bottles weighs 36 pounds compared to 13 pounds for a case of filled PET bottles. He's also able to put 70 cases of PET bottles on a pallet compared to 56 cases of filled glass bottles. Case dimensions have shrunk without the cardboard inserts needed to keep glass bottles from knocking against each other.
At the same time, a typical semi-truck can hold 2,000 cases of PET bottles compared to 1,230 cases of filled glass bottles bottles. Other factors constant, Manning said they've seen an 8% savings just by switching packaging.
Appealing to a New Generation
Much like early screw cap use, Manning said he's heard industry concerns about potential customer pushback with PET bottles. But he really hasn't experienced it in his business.
Based on customer demographics at the Chateau Diana tasting room, Manning said he's seeing an influx of much younger drinkers aged 21 to 35 years old. This is the same generation that grew up with bottled water, so they're comfortable with plastic containers.
"It's a huge group that the wine industry has been trying to figure out for years," Manning said. "They're more apt to drink in non-traditional settings, and I also think that cost-wise, it makes sense for them."
Sustainability also resonates strongly with Generation Z, as these newly minted adults are dubbed, and Shaieb said PET bottles have a good story. Compared to other alternative packaging such as aluminum cans, he said PET containers have a 30% lower carbon footprint.
And unlike bag-in-a-box containers where the bladder must first be removed and separated from the cardboard exterior, Shaieb said PET containers can be directly recycled into programs that accept the international recycling triangle symbol for Plastic No. 1.
Despite his adoption of PET bottles for some market sectors, Manning said he believed glass bottles won't fade away.
"We're still using glass bottles, and they'll still be around," he said. "But I do think there's room in the wine business for lots of people to try different things."