One is a native son who grew up with California farming in his blood. The other is originally from the East Coast and has practiced law for decades in the Golden State.
On the surface, vineyard manager Dana Merrill and attorney Jeanne Malitz might seem like polar opposites. But their diverse lives converged earlier this year when they were honored with the two highest awards given by the California Association of Winegrape Growers.
Merrill received the Grower of the Year Award, CAWG's top honor. The award recognizes excellence in viticulture and management as well as innovation and industry leadership.
Malitz was named CAWG's Leader of Year for her efforts, extending to the national level, to help winegrape growers and agricultural employers with the federal H-2A guest-worker visa program.
CAWG recognized the two leaders at the Unified Wine & Grape Symposium Jan. 24 in Sacramento. CAWG President Natalie Collins singled out Merrill as "a pillar in the winegrape sector, from his dedication to sustainable farming to his innovation in developing new growing techniques."
Collins acknowledged Malitz as "the industry's go-to attorney on all H-2A matters. In a time when growers are continuing to look at diverse avenues to hire labor, Jeanne's advice has been instrumental."
Like winegrapes themselves, Merrill and Malitz have emerged from their own unique terroirs, with their diverse backgrounds and expertise producing big benefits for California agriculture.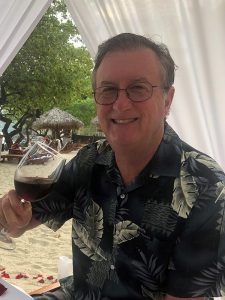 From Federal Litigation to H-2A
Boston-born Malitz worked for a Wall Street law firm, then became a federal litigator before coming to California in the 1990s. She found her calling in employment and immigration law while working for a large law firm in San Diego.
"I loved it because it was people focused," she said.
In 2002, the East Coast native established her own practice, Malitzlaw, Inc., in San Diego. Today, Malitz and her 12 employees work with clients in 11 states. The firm focuses on employment-based immigration matters, emphasizing permanent and temporary labor certification for agricultural employers. Her practice also counsels on employment verification, including e-Verify and I-9-related issues. It's high-volume, fast-paced, often stressful work.
"We work with thousands of farmworkers and their employers," she said. "We sometimes have 30 cases due on a single day."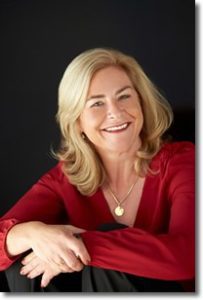 The Good and Bad of H-2A
Malitz's assistance in helping winegrape employers maneuver through H-2A's legal and administrative paperwork and requirements has become more urgent as the need for foreign workers grows more acute.
Malitz cites a combination of factors for the labor shortage: domestic workers leaving the agricultural industry, the workforce aging out and greater enforcement of I-9 requirements and at the border, which reduces the pool of illegal immigrants who would go into agriculture.
"There aren't even enough illegals to do agriculture," said Malitz. "With all the enforcement, you don't really want an illegal workforce, which is why people do H-2A. It's reliable, consistent and dependable, versus a domestic workforce, which is very unstable."
At the same time, Malitz acknowledged the H-2A program "is cumbersome and very expensive" for ag employers. To participate, they must work with multiple federal and state agencies. They're required to offer free housing to their H-2A employees. Another problem is defining "the area of intended employment" and workers' commuting distance.
Further challenging H-2A participation is the requirement that program workers must be paid $19.65 an hour for non-harvest work, $1 more than California's regular H-2A rate. It's a contentious issue.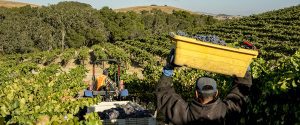 "I think we're going to see litigation on this prevailing-wage issue in the winegrape industry," said Malitz.
As a result of these hurdles, only a fairly low percentage of winegrape employers use H-2A, said Malitz. She advises those who do participate to apply well in advance of when they think they'll need H-2A workers.
"Things can get delayed because of so many government agencies," she said. "Employers need to be organized for us to be organized. They've got to set their expectations. They not only have to know the rules, they have to follow them."
Malitz believes those who use the H-2A program "are the best employers who try to do everything right. They're good players. That's a message that never seems to get across to the public."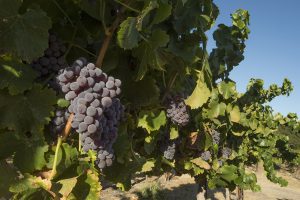 Central Coast Wine Industry Pillar
Some 330 miles to the north, at his headquarters in Templeton, Calif. near Paso Robles, Merrill focuses on developing and managing winegrape vineyards. His Mesa Vineyard Management Company oversees 12,000 acres of winegrapes. While his son, Matthew, has taken over as general manager, Merrill remains company president and deeply involved in strategic planning and problem-solving.
Merrill is a seventh-generation Californian whose ancestors came from Spain in the 1700s to help build the missions. He grew up on his grandfather's ranch in Santa Ynez in Santa Barbara County. After earning a degree in agricultural business management from California Polytechnic University at San Luis Obispo, Merrill and his brother leased land to farm. That venture wasn't financially successful. He was later hired by a large vineyard management and development company in Monterey County. That experience "really set in motion events that led to where we are today," he said.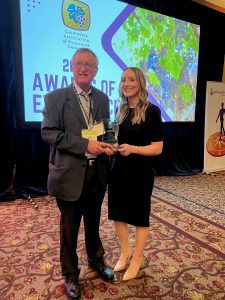 When the company's principals retired, Merrill again started his own firm, this time offering vineyard management services. It was 1989, and he called the new company Mesa Vineyard Management. Today, he and his team work with 25 major clients in Monterey, San Benito, San Luis Obispo and Santa Barbara counties as well as Oregon's Willamette Valley. They include some of the wine industry's most important brands, investment firms and coveted vineyards.
Mesa Vineyard Management has installed and redeveloped thousands of acres of vineyards. It provides daily production oversight, grape harvesting and winegrape sales for 30 different grape varieties each year.
Merrill, along with his wife Marsha and son Matthew, also launched Pomar Junction & Winery in 2008 to showcase estate wines from their own 120-acre Templeton vineyard in the Paso Robles appellation. Named for a nearby convergence of two old railroad lines, the winery features a Sante Fe caboose in its logo. The Merrills closed their winery when the pandemic hit but maintain a private tasting room at their main ranch.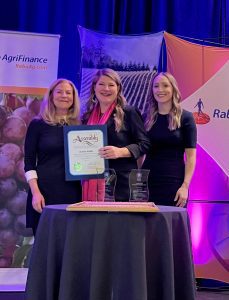 A Good Vintage
All those moving parts take unique skills, and Merrill has them. He describes himself as someone with a "generally positive attitude and dry sense of humor," who's budget-oriented but with "instinctive grower skills." He believes in collaborative problem-solving and finding areas of agreement to solve challenges.
Those traits were put to use when Merrill served as CAWG's board chairman from 1999-2001 and as the first chairman of the California Department of Agriculture's Pierce's Disease and Glassy-Winged Sharpshooter Board. He was a charter board member of the Central Coast Vineyard Team. Merrill also was named 2012 Wine Industry Person of the Year by the Paso Robles Wine Country Alliance as well as the San Luis Obispo County Farm Bureau.
Business Challenges
Still, life returns to normal after the awards presentations. Like Malitz, Merrill wrestles with labor issues. His company relies on hundreds of seasonal people, but it's difficult to find adequate labor. He has long used third-party labor contractors but recently began using the H-2A program too. That's on top of Mesa Vineyard Management's 85 full-time employees.
But the challenges don't stop with labor. Merrill points to California's chronic water shortages, the vine mealybug, fewer approved labels for chemical use, and inflation. This winter's storms also caused flooding and erosion in some of the vineyards he manages.
Local water-well issues also challenge the Paso Robles area, which is all groundwater-supplied. Over the past 20-plus years, Merrill has watched the area expand to 40,000 vineyard acres and more than 200 wineries, creating a wine-centric mecca that draws tens of thousands of people each year. Further bolstered by hotels, restaurants and tasting rooms, Paso Robles has been transformed into a cultural center.
But that growth has created land- and water-use challenges for commercial winegrape producers, who often operate adjacent to rural residents living on one- or two-acre lots. In fact, groundwater shortages have led to a moratorium on new irrigated farmland in the Paso Robles area.
"I have spent significant time working with others to form the Estrella-El Pomar-Creston Water District in the west half of Paso Robles Basin," said Merrill. "Trying to figure out how to comply with the Sustainable Groundwater Management Act and deal with less common cohesiveness everywhere makes a tough job even harder."
Also high among his worries is the rising cost of wages. Mesa Vineyard Management has seen three state-mandated 8% increases over three consecutive years. On top of that are future wage increases tied to annual inflation. Those wage escalations "rippled through our company," Merrill said. "When the lowest-paid people get a raise, everybody above them expects a raise too."
Technology and Mechanization
Such labor problems have pushed Merrill and his team to use more mechanization and technology. Machines are doing more vineyard pruning, harvesting, tending of canopies and moving wires. Its grape harvesters are now programmed to calculate yields and unharvested blocks needed to fulfill grape contracts. Mesa Vineyard Management also has adopted more stringent irrigation management to comply with SGMA. The company has increased its precision application of chemicals. It further relies on electronic trackers placed on its trucks, grape harvesters and other equipment. That's eliminated the need for employees to contact vineyards and wineries to locate vehicles.
"Who knows what's ahead, but more tech is a given," Merrill said.
Despite the challenges, Merrill's outlook remains positive in part due to California's ideal growing regions and their high-quality wines. "Quality always sells," he said.
Merrill and Marsha, married for 48 years, just bought a vacation house in Costa Rica. He hopes to spend more time there, improving his Spanish-speaking skills and enjoying his favorite wine, a Merlot from his own Pomar Junction label. Seeing the next generation succeed also remains a goal for him. His advice to younger winegrape growers and managers?
"Learn all you can," he said, "and figure there will be many twists and turns to your career."