It's one of only two of its kind nestled in the rolling foothills of Northern Sacramento Valley's Glenn County. Raging Bull Vineyard and Winery is the home of Charlie Sullivan and Sharon Shipley, who in partnership with Winemaker Bryan Shaw produce grapes and wines from 20 acres of vineyards against a backdrop of the magnificent Mendocino Mountain Range.
Unlike most vineyards and wineries in the Northstate that have a view of the Mendocino range looking eastward, Raging Bull's view is unique in that it is looking westward to jagged peaks that on any given evening can silhouette a burning sunset catching the clouds on fire.
90 minutes north of Sacramento and a few miles off Interstate 5, Raging Bull offers peace and quiet with nothing else around except a few mooing bovines grazing the grassy knolls.
"Raging Bull Vineyards and Winery is a small, boutique winery," Shipley says. "Along with our wonderful wines, it's the perfect spot for your wedding, reunion, anniversary party or just a get-together with friends."
She is adamant that Sullivan is the mover and she's the shaker behind Raging Bull, and together the two can make grapes and wine happen.
Raging Bull's website states, "What started as a blank-canvas land purchase by Charlie has been morphed by their vision and efforts into what it is today."
However, while it is Sullivan who owns everything, it is Shipley who puts the fine points and details to Raging Bull's success.
Her contributions are obvious everywhere you go, from the decorations and stone fire-pit to the custom half-tables in the bar, all done by Shipley, whose previous career was in human resources for 16 years at a copper mine before moving to Northern California. She can be found engaging in all aspects of the winery, from watering, to picking, to crushing.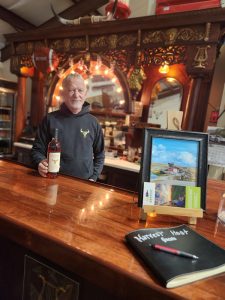 Origins
A few years ago, about 2016, Shipley said, "Charlie decided what we could grow out here west of Orland to have a little extra spending money for retirement."
A retired well-driller, previous owner of Sullivan Drilling in the Northstate, Sullivan decided to grow grapes to sell to other vineyards.
"And because of numerous other reasons," Shipley added. "But the main one is that grapes don't take a lot of water."
The couple worked the first five acres of the vineyard, and by the end of that summer, they had about five acres of vines planted.
"We sure didn't know a lot about growing grapes and we had to learn mighty fast," Shipley said. "Thanks to many friends and lots of advice and reading on how to train, water, grow and whatever else we needed to get this crop growing, we got it done."
A couple years after that first summer's planting, Sullivan and Shipley had produced their first crop and had to find a way to get them harvested.
"So, we read on how to do that and gathered up all the help we could and got the first harvest completed, that was 2019, we harvested the crop, fermented them and made a 2019 blend wine," Shipley said.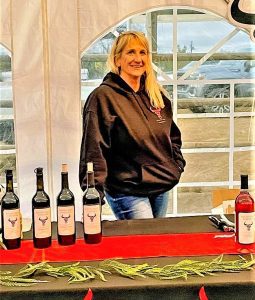 Not too long after, the couple hired a winemaker, Shaw.
"He told us, 'Well, you didn't ruin the wine,' and we looked at ourselves and said, 'Really?'" Shipley added.
"Well, as of today, that blended red wine is our No. 1 selling wine, and it just keeps getting better and better."
The couple agree they have come a very long way and know much more than they ever thought they would.
"And we just keep learning about something we love to know and learn more about," Shipley said.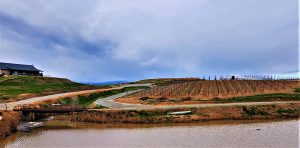 The operation sits on rolling, grassy hills, speckled with old oaks. The tasting room and winery sit next to a large, fish- and croc-infested (fake of course, I hope) pond where guests can paddle around in canoes. The tasting room extends into an outdoor gazebo overlooking the pond with a view of the vineyard and mountain range.
Inside the 4,560-square-foot barn that houses the tasting room and winery heralds a beautiful carved wood 1900 antique bar that came from Sacramento. The ornate bar is what gives the room its unique atmosphere along with the Texas longhorns mounted above.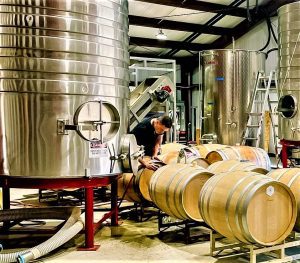 "One of only a handful remaining, it's a beautiful piece of turn-of-the-century craftsmanship unseen in modern building," Sullivan said.
"This is a perfect place for having a seat and sampling the end result of the production happening all around you," Shipley said.
With the grapes sitting at the front of the property, Raging Bull boasts an additional 200 acres of land, great for stretching legs, running your dogs, enjoying wildlife and getting a first-hand, up-close view of the vineyard.
Built in 2019, the barn and extended pad behind it serve as most of the grape processing, fermenting and racking space. Two office spaces are on one side and on the other are dual ADA-compliant, four-stall bathrooms. The winery also has three ADA-compliant shower stalls with tiled walls and pebbled floors.
Unique Setting
"We chose to grow grapes in our climate because it is a very consistent climate that is dry," Shipley said. "The vines tolerate the heat, volcanic rock soil with hillside drainage, and we have plenty of water."
Sullivan says the uniqueness of the vineyard is that everything is grown and bottled onsite whereas many wineries nowadays either buy their grapes or wine from other wineries that specifically sell and grow the grapes.
"We are also a vineyard that offers guests to come out and watch our process, help if they choose, watch us bottle or harvest, take a tour around the vineyard in our eight-man golf cart and try the grapes that our wines are made from," Shipley added.
There is only one other winery in Glenn County, and it sets on the east side of the valley.
Wines and Winemaker
"Prefer certain varietals of wine? This vineyard is sure to have something to your tastes," Sullivan said. Currently planted are Cabernet, Malbec, Syrah, Sauvignon Blanc, Merlot and Grenache Noir.
"When we have guests, we love to tell the story of how we started this and how our wines have evolved to award-winning wines that have even been featured in Sunset Magazine, The Critics Challenge in San Diego and the San Joaquin Valley Wine Challenge," Shipley said.
The vineyard and winery feature some of the finest equipment for an operation the size of Raging Bull.
"Our wines are made in the mind of old school technology with the most modern equipment," Sullivan said. "We use the finest yeast and plant-based additives to make the wines and varieties our customers are sure to enjoy."
Providing water to the vineyard are two 16-inch agriculture wells along with two domestic wells. All four were drilled by Sullivan, who has been drilling water wells for nearly 40 years.
Winemaker Bryan Shaw started with Raging Bull in June 2021.
He was educated in the viticulture and enology winemaking program at UC Davis and has won multiple silver and gold medal awards for his past vintages of wines at previous wineries.
His knowledge in many winemaking styles and fermentation techniques have been incremental to Raging Bull.
"We chose Bryan Shaw, our winemaker, because he has a variety of expertise, knowledge and education that simply makes a good wine," Shipley said.
Shaw has worked along some of the best winemakers in the country and is very thorough and focused on how to make an award-winning wine, Sullivan added.
"He loves to chat with the customers and entice them with his knowledge on winemaking and will even go so far as to do barrel tasting with them," Shipley says.
Sullivan adds that the process of winemaking is up to the winemaker and what he wants to achieve with the grapes.
"We use stainless steel tanks and numerous kinds of oak barrels in our processing," he said. "We go through a fermenting, destemming and crushing process before the wines get into the barrels and tanks."
The winery bottles twice a year by appointment with a mobile wine-bottling service as is customary these days.
To date, the winery's award-winning wines are Syrah, earning three gold medals, 2020 Cabernet Sauvignon with three silver medals and 2020 Merlot with one bronze.