Torch Cellars co-founder Mark Welch had worked in multiple vineyards across the globe all his career before finally opening his own with longtime friend Greg Jelstrom. A dream come true, Welch and Jelstrom made it their mission to "craft elegant, limited-production wines that will delight the most discriminating wine enthusiast."
Welch, who is also a certified PCA, worked his way up through the wine industry in all facets, from the field to the winery to teaching, and finally back to the winery. By the early 2010s, Welch and Jelstrom were making wine by hand as a side project and bottling their first Zinfandels. Jelstrom, like Welch, came to enjoy winemaking, and the two became business partners to form Torch Cellars.
Torch Cellars is located in western Paso Robles within San Luis Obispo County and produces from grapes grown in vineyards in the Willow Creek, El Pomar and Templeton Gap regions. Location, which includes factors like soil type, weather and aesthetic, is everything to Welch for a winery, and it played into the search for Torch's home on the Central Coast.
Welch sat down with Grape & Wine to share his experiences working across the industry up to Torch's inception and beyond.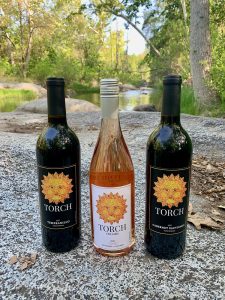 Q. How did you get your start?
I'm from Visalia originally. I went to Cal Poly [San Luis Obispo] for crop science. Two years into my agronomy class, I had Viticulture 1 and Viticulture 2. I enrolled in those. At this time, Cal Poly did not have a wine and viticulture program so a few professors with vision created a "Wine Marketing Certificate Program" in the early 1990s through the university's extended education teaching program, which I participated and graduated. It was the beginning of what Cal Poly has now in the wine and viticulture program.
At that time as a student, I worked and was enrolled at the university yearlong. Professor Paul Fountain oversaw the teaching vineyard. Paul asked me, "I need someone to run the vineyard (Trestle Vineyard) for the summer." I volunteered, so that's how I got started.
The winery that was processing those grapes for Cal Poly was Wild Horse Winery and owner Ken Volk, very famous winemaker. I wanted to learn more about the winemaking process. Fast forward, after I graduated Cal Poly, I ended up going to work for Wild Horse in Templeton, Calif. I spent three years learning the wine business. At this same time, I was introduced to the music business and managed, marketed and toured with musicians for the next six years. That was fun and very educating; however, I decided to follow my passion and get back into the wine business. I went back to Cal Poly and enrolled in the master's program for plant protection science.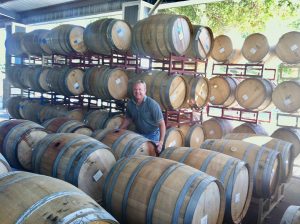 After graduating, Cal Poly Crop Science Department offered me a position to lecture classes and manage the vineyard along with all the permanent tree crops That's where I met Dr. Keith Patterson, a very famous viticulturist. Keith took me under his wing… and I ended up teaching there for the next 10 years as a lecturer.
At that time, we developed the wine and viticulture program at Cal Poly. We were the first ones to develop it. I was on the ground floor.
In 2012, we had a department head change… I decided to retire and move on. Following my interest to travel and work abroad, I ended up doing grape harvest in Switzerland along Lec léman (Lake Geneva), and subsequently accepted a cellar hand position in New Zealand for the next three seasons working for Constellation Brands. After moving back to San Luis Obispo, I went to work for Midnight Cellars in Paso Robles. That's where I started the brand, Torch Cellars.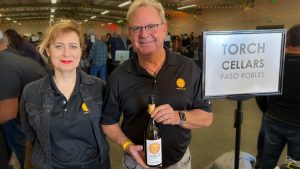 Q. Where did the name 'Torch' come from?
Torch was my nickname I was given while working at Wild Horse Winery. Ken Volk named me "Torch". We were working in the sun so much, I looked like a surfer guy. "You're a torch," he said, and that's the name.
Q. To you, what makes Torch Cellars unique?
Location has everything to do with it. On the west side of Paso, the soils are very chalky (we call them calcareous), they are old seabed soils, and the weather, of course, the day and night temperature fluctuations, those have a lot to do with the flavor of the grapes, we say.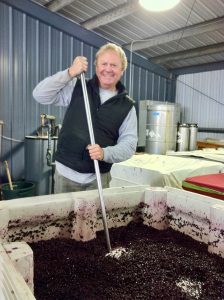 At Torch Cellars… my winemaking style is a combination of various techniques. We have seven guys that make wine down here, and all of us might use the same grapes but we don't necessarily use the same yeast, barrels and/or aging techniques. It's like a chef, for example, like you're making a pizza and I'm making a pizza; we all use dough, but it's how you make it.
I think the things that stand out for anybody making wine is your label. The brand has to be the one that kind of stands out and makes it unique. You need to have a story behind it. I think it makes it a lot more interesting when people ask about it.
I went around the world where I've seen a lot of different winemaking techniques and I apply them to my winemaking style.
There's not only one way to do things. That's kind of where you stand out between you and the next guy.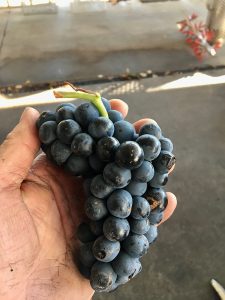 Q. Tell me about some of those grapes and wines you produce at Torch.
I make red wines in a "Bordeaux style," meaning I primarily use the five primary reds from France: Cabernet Sauvignon, Merlot, Cabernet Franc, Petit Verdot and Malbec.
I always liked Cab, and I always liked Syrah, and I ended up blending this Cab-Syrah-Tempranillo, and that's kind of my flagship. That's my reserve. It's always been Cab, Tempranillo and Syrah.
I love Tempranillo, it is a favorite variety I use as a standalone variety and blend. Tempranillo is from Spain, and I use a combination of American and French Oak barrels, age 33 months. It's kind of earthy, it's got the other elements that Cab doesn't have or Syrah. Of course, it's the major variety out of Rioja, Spain. I produce the wine over here and kind of do it in a different style.
I typically age 18 to 33 months in 50% New French Oak. Rhône-style wines (Syrah, Grenache) use much less new Oak (33% new French Oak) and only 18- to 24-month barrel aging.
Grenache is the workhorse of the Rhône Valley [in France], so I also do a little Grenache Rosé.
There's about a handful of us that make Chardonnay on the west side of Paso, and it's in a Burgundian style… meaning barrel fermented, barrel aged and sur lie aging (the process of letting white and sparkling wines mature and age on top of spent yeast and other particulate matter.) Typically, no more than five to six months in barrel before bottling. In Europe, winemakers use traditional winemaking techniques centuries old handed down by generation where in New Zealand) we use the same concepts but more mechanized and larger quantities.
Q. What's the tasting experience like at Torch?
Everything is in the wine cellar itself, which is kind of unique. You have to have an appointment, we come in, we do the tastings, and you're in the cellar, you see the tanks, we do some barrel tastings.
Most people are just in the tasting room, they just don't get to see the owner. They get to see everybody else. So, it's just with me.
Q. Separate from Torch Cellars, what's been your personal mission as a winemaker?
Travelling really opened my eyes to traditional winemaking. My main objective with that was to just learn as much as I could and try to bring as much of that knowledge back here and try to train people.
I don't know if I really have a mission; I just know I want to try and make the best wine I can, and I like being a PCA.
Q. Does being a PCA help when being a winemaker?
Six months out of the year I work in the wine side and the other six months I work as an independent pest control adviser (viticulture consultant). It does help me. I get questions on both sides all the time.
I'm trying to help growers be efficient. I get called all the time. It's been a learning process.
Q. What does sustainability mean to you?
There's a pest side, soil side, water side and people side. So, all those things taken into consideration, when we farm, sustainability is using the least of all your inputs to create a product.
I tell everybody, you've got to farm the soil, not necessarily just the plant because it is what's in the soil that translates into the wine.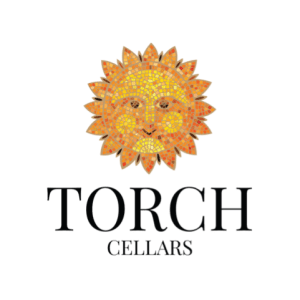 https://torchcellars.com/