Lodi-area Vineyard Manager Joe Valente admitted he was skeptical when he started working with Kingman Ag a few years ago on a prototype kit to convert a conventional tractor into an autonomous machine.
After navigating a few bumps and bugs, Valente is now a believer in the technology, having run a self-driving tractor for 1,200 to 1,400 hours mostly with a three-point disk during the 2022 season.
"As long as your fields are GPSed, you can put it anywhere," Valente said. "We've been pretty pleased with it and are in the process of getting a couple more."
Kingman Ag isn't the only company that has begun retrofitting conventional tractors to make them self-driving. Israel-based Bluewhite Robotics also is working with growers of permanent crops in California with plans to expand into Washington this season, said Graham Thompson, Bluewhite director of business development. The firm's U.S. operations are based in Fresno.
"Not only is the technology here but now there's a willingness by the growers to implement it," he said. This is being spurred by labor availability as well as increasing costs.
By Farmers, For Farmers
More than four years ago, Kingman Ag Founder and CEO Connor Kingman partnered with Ted Sheely, a family farmer near Lemoore with winegrapes, pistachios and row crops, to develop an autonomous conversion kit.
One of the benefits of working with Sheely is they're able to test prototypes under real-world situations and receive almost immediate grower feedback, Kingman said. They began beta testing the latest autonomous kit, designed for vineyards, in 2021.
"We're in the never-ending pursuit of something better," he said. "We spent four years in development before we released this to our first customers. We have the bugs worked out, and most importantly, this is safe."
As a result, Kingman said he felt confident about moving forward with a commercial launch.
Conversion involves mounting a frame on the tractor front that is connected to the machine's operating systems, including electrical, steering, hydraulic, PTO drive and power train.
Numerous cameras mounted on the frame send images to an onboard computer, which helps steer the unit and detect obstacles.
Also fitted on the frame are LiDAR (light, detection and ranging) sensors that detect obstacles and relay the data to the computer. Artificial intelligence, a type of high-powered computer programming that makes decisions and learns from repeated actions, helps guide the tractor.
The user can monitor tractor performance, including a live video feed, with a smartphone app or on an office computer. Should it encounter an animal, human or trellis askew, for example, the computer immediately shuts down the tractor and sends an alert to the user.
As an added failsafe, users create and upload a GPS map of their vineyard that includes boundaries and vineyard rows. This can be done quickly using an all-terrain vehicle.
On the rare instance that a detection system goes out, the computer can still run off of the GPS map. Although Kingman admitted their system is overbuilt with redundancies, he said, "safety for us is incredibly important."
To comply with California Occupational Safety and Health Administration rules, Kingman Ag remotely supervises all tractor operations round-the-clock using cell connections. Should they see a problem, they can immediately stop the tractor.
Wide Range Of Vineyard Applications
When choosing a candidate tractor, Kingman recommended one suitable for a variety of vineyard tasks because installing the kit takes time and it can't just be popped on and off. He's attached the kit to machines as small as 40 hp and as large as 275 hp.
"We've seen most growers use 100 to 125 hp, because you want to be able to use all the implements with the autonomous system to get the most benefits from it," Kingman said.
By simply flipping a toggle, much like a light switch, he said operators can go from autonomous mode to manual or vice versa.
Valente said they had the kit mounted on an 85- or 95-hp New Holland tractor that would allow them to disk or mow their vineyards.
"I think what's enticing about this is you're not out the initial cost of the tractor if you have a tractor that's in reasonable shape," he said.
Valente said they used it mostly in a large, remote vineyard near Thornton and had few problems with tractor operation and communication. They also hauled it to a vineyard near Linden to test reception, figuring it was an area with iffy cell service. But he said he was surprised that the tractor never lost communications.
Continual Improvements
Kingman said users can theoretically run a tractor 24-7 and only stop when they need to refuel or refill a spray tank. Based on an average speed of 4 mph, he said one tractor could work up to 80 acres per day.
One of their recent upgrades is increasing the tractor speed to 7 mph from 4.5 mph. This was an improvement growers requested for dusting sulfur application.
In the works are upgrades that would allow autonomous vine trimming as well as gondola pulling during harvest, Kingman said.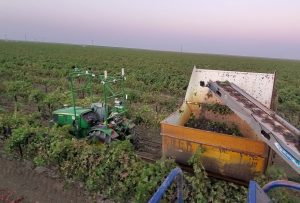 During harvest, the driverless tractor would run parallel to the mechanical grape harvester, catching fruit as it dropped off the conveyor. When the grapes reached a certain level, the tractor would pull away to haul the load to a waiting trailer. Another autonomous tractor with a gondola would pull up behind the departing rig to begin receiving fruit, much like they currently do with human drivers.
Kingman Ag offers the conversion kits on an annual flat-rate lease arrangement, regardless of how many hours the tractor operates. The price includes kit installation, 24-7 monitoring, technical support and troubleshooting as well as any software and hardware upgrades.
Although every operation differs, Kingman said he figures a kit likely would be cost-effective for use on 500 or more acres.
A Three-Phase Approach
Bluewhite is focused not only on grape vineyards but also on fruit and nut orchards. Graham describes their self-driving tractor market kit as "tractor agnostic," meaning it can be installed on a variety of sizes and brands.
The kit interfaces with the tractor controls, including steering, three-point hitch and PTO drive. Multiple cameras and sensors, including LiDAR, detect objects and feed information into an onboard computer that uses artificial intelligence to make decisions. Bluewhite's system operates independently from GPS or RTK since they are not always available when operating under the tree canopy.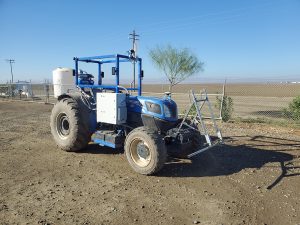 Bluewhite introduces its technology to the growers in three phases. In Phase 1, company representatives survey the farm to determine whether it is suited to the technology. Then they digitally map the fields. Phase 1 also involves operating the tractor in the autonomous mode but with company representative at the controls. Phase 2 will train the grower to run the tractor but still with a person in the seat.
Phase 3 involves remote operations, which the company has not yet implemented in California because of Cal/OSHA rules. But remote operation can be done using a smartphone or tablet.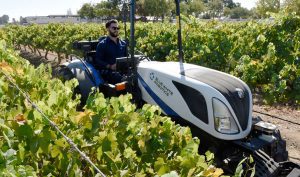 "We're certainly running tractors that way in Israel where our headquarters are, and we're moving forward from Phase 1 to Phase 2 and starting to transfer operations to the growers themselves," Graham said. "Phase 2 capability is there, and we're also looking to move to the Washington market where the [Cal/OSHA] regulations aren't in place."
So far, the company has logged more than 25,000 hours of tractor operations.
Graham said Bluewhite uses a subscription model that will include round-the-clock service and technology updates. There is an initial fee to install the robotics on a tractor.