For more than 20 years, attorney Anthony Raimondo has represented California's agriculture industry in some of its toughest labor issues.
A partner with the Fresno-based Raimondo-Miller law firm, Raimondo specializes in helping agricultural employers handle labor relations and employment law both at the state and federal levels. His expertise runs the gamut from collective-bargaining negotiations, to defending against unfair labor practice, sexual harassment and discrimination claims, to representing clients in class-action lawsuits.
Raimondo recently told Grape & Wine he expects to see the pressure on compliance increase as the world returns to normalcy in COVID-19's wake. "I want growers to be ahead of their game and prepared for the variety of things that are going to be thrown at them in what is a heavily regulated industry," he said.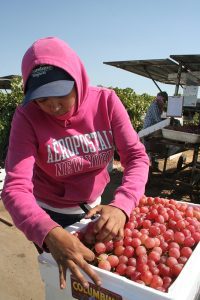 Raimondo is a frequent speaker at industry events and has been featured on the Valley PBS television series "American Grown: My Job Depends on Ag."
Q. What are the biggest labor challenges facing California grape growers, processors and wineries?
For a number of years now in California, the biggest challenge has been the same: a lot of wage and hour lawsuits involving representative action, like class-action and private attorney general act lawsuits. Those are high-exposure lawsuits that are expensive to defend. These types of cases generally involve very similar allegations of meal and lunch-break violations, rounding of time, accuracy of time records and minimum wage and overtime claims. They bring these claims usually with one or a few name representatives that are representing all the workers for a particular operation going back over a period of three to four years.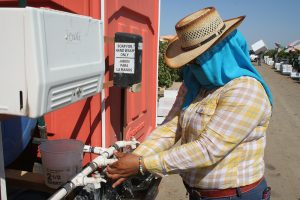 Q. How should agricultural employers handle that?
I have been encouraging growers to embrace technology. We still see a lot of agricultural operations using hand-kept time records out in the field. But we really need to use mobile applications and electronic time-keeping methods to more accurately record the time that employees are working as well when they take meal breaks. Technological solutions even can be used to reduce workers-comp claims out in the field by getting employees to record whether or not they've been injured. It's vitally important for every employer to have a well-drafted arbitration agreement that employees receive in a language they understand. These agreements can greatly reduce the cost and risk presented by these types of cases.
Q. What's another management solution to help the industry with labor issues?
Management of work patterns in the field is really important, meaning they assure that meal breaks happen on the right schedule and on time. I do not recommend to my clients that they round time to the next 5, 10 or 15 minutes. That's a very common practice that should be avoided. They should be reporting time electronically and paying to the minute.
Q. What about union representation and organizing?
Under the most significant change in the Agricultural Labor Relations Act in a very long time, unions no longer need to have elections to become certified as a bargaining representative of employees. Wine and table grapes particularly will be targeted for union organizing. Once unions get a majority of employees to sign authorization cards, which are just simple documents that say the signer wants union representation, the unions can force bargaining on employers, whereas secret ballot elections used to be required. They no longer are. The majority of authorization cards will be sufficient for a union to gain the right to represent farm workers.
Q. What can grape industry employers do about that?
Start the process of communicating with workers about union representation. Train employees and supervisors on what an authorization card is, what it really means to have a union, the fact that it costs workers money to have a union. Both management and employee training and orientation are going to be really important. In fact, our firm is already rolling out training modules for companies to develop a culture internally to remain free of union representation, to orient their workers and know how to talk to workers, within the confines of the law, about the pros and cons of union representation.
Q. What's your take on grievance processes for employers and employees?
It's important for employers to have effective grievance processes so employees have the ability to raise and address grievances within a fair and transparent system internally and to have competitive wage and benefits packages. Those are the keys to remaining union-free. But also make sure workers understand what an authorization card is and how it binds them legally. Historically, unions have often misled workers. Workers shouldn't sign something unless they know what it is or because they feel pressured to sign it. They have a right to make their own independent decision.
Q. What about immigration law compliance?
Employers must understand what their obligations are under immigration law. Internal training for employees who do the hiring is extremely important. Make sure personnel are effectively hired with adequate I-9 forms. If field supervisors and foremen are hiring people in the field, those folks need to be properly trained on how to complete the I-9 verification process.
Many agricultural employers are not aware that Section 1 of the I-9, which is the employee information, must be completed before the employee performs any amount of work in the field. Then the document verification section, which verifies their identity and authorization to work in the U.S., has to be completed within three days of when they start work. Employers should internally and periodically audit their I-9s to make sure they're completing that process correctly. Those I-9s create a very strong defense for the employer against any allegations of immigration violations. We regularly provide internal training and auditing for agricultural employers to strengthen immigration law compliance.
Q. What new laws have taken effect in 2023 that may not be well known in the grape industry?
A lot of growers are not aware of the expansion of the California Family Rights Act. That actually happened in 2021. Many growers are familiar with the federal Family Medical Leave Act, where employees can take up to 12 weeks of unpaid leave for a serious health condition or that of a family member. California's similar law used to apply to employers of 50 or more employees. But it's been expanded to employers of five or more employees. Even small employers now need to be aware of their employees' right to protected leave.
Q. What's happening with OSHA?
Every grower should make sure they've been giving attention to their OSHA compliance. Just before the pandemic hit in 2020, OSHA hired a large number of new agents and investigators. We're going to see a lot more OSHA inspections as state employees return from remote work and the world goes back to normal. They've got a big backlog of activity they want to pursue. Similarly, we've been seeing increased inspections by the federal Department of Labor.
We're also seeing more Employment Development Department audits for payroll tax compliance. These appear to be focusing on independent contractor issues under Assembly Bill 5. That changed the independent-contractor definition in California. They seem to be looking very closely to see if there have been folks classified as independent contractors paid under a 1099 who should have been paid under a W-2 as an employee, given the new definitions.
So, getting ready to be visited by these state and federal agencies, and particular the EDD labor commissioner and Cal OSHA, is going to be something employers need to be ready for in agriculture.