Hawk and Horse Vineyards embodies three novel traditions: ranching in Lake County and the area's unique horse-riding traditions, the Red Hills AVA with its unique "Lake County diamonds" and biodynamic farming. These make it an utterly unique producer of fine red wines. Add to that the presence of one of wine's most famous winemaking figures, Richard Peterson, and the Boies-Hawkins families' many branches, and you have a powerful combination of influences and a winery making award-winning red wines.
Located in Lower Lake, the site consists of 1,380 acres, of which 18 are planted to wine grapes (16 to Cabernet Sauvignon, one to Cabernet Franc, and one to Petit Verdot).
The winery is co-owned by Tracey and Mitch Hawkins. Grape & Wine spoke to co-owner Tracey Hawkins about the winery's history and focus.
When did you begin to grow wine grapes and make wine?
My family, namely my stepfather, David Boies, purchased 960 acres of land on the Mayacama Mountain Range in Lower Lake in the mid-1980s (another 340 or so acres were purchased later.) David wanted a property where he could make a dream of growing quality California Cabernet Sauvignon come true. He also wanted a ranch which could be a retreat for our large extended family to meet and celebrate together. David was not limited in his search by geography or cost. He wanted land that could be self-sustaining, beautiful and could grow quality wine grapes. When we found this land, which had been a renowned Arabian horse breeding facility in the 60s and 70s, it had all of those things as well as the historic horse facility and homes.
There was no such thing as "Red Hills AVA" at this time, but we knew this was a site with phenomenal red volcanic soils and unlimited potential. Biodynamic and organic farming protocols enable us to develop that potential in harmony with nature. By farming in harmony with nature, we bring forth the true essence of this most magical place.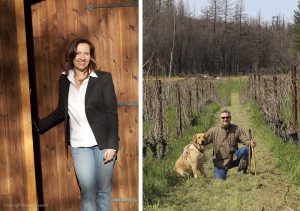 You've chosen to farm organically and biodynamically. What attracted you to those practices?
When we started to convert 15 acres into vineyards, we chose a site up at 2200 feet elevation on Mayacamas Mountain Range, and in doing that, I just couldn't go for some of the advice, putting up plastic all over where you're going to plant and then pump some chemicals in there to kill everything. And I just can't think of doing that.
We were told by so many people that even just being organic was the kiss of death. People told me, "No one can do it." The winemaking course I took at UC Davis was not very favorable toward organic and made it sound like you can't really produce quality in that way. First of all, in the farming protocols. And then secondly, in the winemaking protocols. But that's clearly been proven wrong, not just by us, but by a whole movement of wineries and grape growers and things.
We became certified organic by the California Certified Organic Farmers (CCOF) in 2004 and biodynamic by Demeter USA in 2008.
We had one person who was one of the big commercial vineyard managers, the type of person who would manage a vineyard for an absentee vineyard owner. He told us that he'd done organic and the vines just died because he [mistakenly] thought that organic just means you do nothing. It couldn't be more different from that. In organic, the thing is that you do nothing with synthetic chemicals.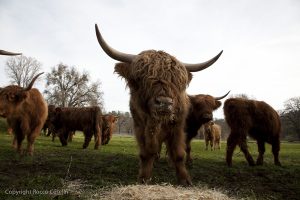 Biodynamics is a step beyond organics. What appeals to you about farming biodynamically?
What I love about biodynamics is the thinking of what then can you do? Biodynamics gives you this whole plethora of tools to use. It's not just clean and ecofriendly but actually regenerative. When we started doing biodynamic, regenerative wasn't even a thing. It wasn't even really thought of commonly.
I was also raising a young daughter and had studied a little bit about biodynamics. I can't even remember the moment in time when I realized biodynamics was where we wanted to go or how I even found that there was an organization called Demeter that was encouraging and promoting and educating people in this way, but all the things came together sort of magically. Fast forward to today, and we have this amazing and beautiful ecosystem up there. We're producing fantastic wine grapes that make wine that's just off the charts.
You've also kept alive some of the ranching and horse-riding traditions Lake County is well known for.
When David purchased the ranch, it came with a couple of horses. Whenever I could, I would visit and ride. I rode mostly bareback and had no formal lessons. I read equestrian books and magazines and just rode the trails for fun. Now horses are a daily part of family life. They are used to riding our fence line on the ranch, so they have a practical use. They are also our rodeo partners and beloved family pets.
As our children grew, riding horses became a family activity. I decided that it looked too fun to not participate. So, I began to take lessons, along with my daughters, from local rodeo legend Helen Owen of Owen Ranch in Hidden Valley. The rodeo community is strong in Lake County and it is very family oriented. This is a very blessed lifestyle for families, and we do not take a moment of it for granted. Having animals on the ranch enlivens the land and enriches our lives in many ways.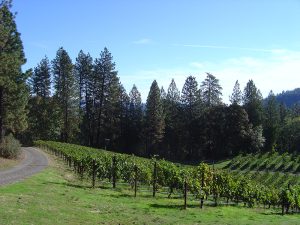 How do you sell your wines?
We sell over half of our wine direct to consumer through our wine club and a VIP buyers list, and then the rest through high-end restaurants and a few Mom and Pop wine shops in key areas.
Over the years, we've realized there are a few key markets. I think most of the small family held wineries find this to be true; you find your niche. For us, it is geographical as well as for people looking for exquisite wines, but also people who are environmentally conscious, which is becoming more and more prevalent. Certain markets have just really resonated. For some reason, we sell a lot of wine in Florida, we sell a lot of wine in Las Vegas on the strip, believe it or not. Las Vegas has become a more modern, unique and interesting place and a foodie heaven with great chefs.
After nearly 20 years of organic and an almost equal number of years in biodynamic, what observations do you have about this type of farming?
I would say, generally, it's not as hard as people might think. It's not. It's definitely hands-on. It's definitely labor-intensive. But I think it's not as hard as people might think. The other thing that I would say is it's more resilient. In 2007, there was a big frost in Napa and Lake counties early in the growing season, and overall, California had a big loss in production that year. But we had an increase because we came through after the frost almost immediately, like the very next day, with a silica infused tea, which we use. We sprayed that on the vines as a foliar applicant, and literally some of the leaves, the burn that freeze looks like on the tendrils, literally unfurled, and some of the pieces that were burned beyond repair fell off and a new leaf grew. It was just incredible.
What advice do you give others when asked about your farming practices?
What I would like to say about organic and especially about biodynamic farming is the protocols are available to anybody. You don't have to be Demeter certified to have access to these wonderful tools. So, I would say first of all, anybody that wants to know more, give us a call.
You've also had the benefit of working with one of the greats in California winemaking, Richard Peterson, as a consulting winemaker. What was that experience like?
In the early days of our project, we interviewed consulting winemakers. And we worked with a few. But what Dr. Peterson brought to the project was something like magic, a place where science and poetry meet in winemaking.
Dick studied food science at UC Berkeley, so he had the science background. But he also has an impeccable palate.
Dick taught us more about viticulture and winemaking than we could have ever imagined not knowing if that makes sense. We learned about balancing wine in the vineyard. Though it is commonly said "wine is made in the vineyard," Dick taught us how to balance sugars and acidity, even in tough growing years, and how to harvest at the best possible moment to minimize or eliminate intervention in the cellar. He had the rare gift of understanding the earth and vines as well as the winemaking process.
We had an instinct or sense of what we wanted to craft from our land. Dick taught us how to make the decisions, based on science, to bring that instinct forward, resulting in the very best our land had to offer. He didn't just tell us what to do. He took the time to teach us.
Dick is that sort of rare, gentle, patient teacher who draws the answer from you even when he knows the answer and it would be easier for him to just tell you what to do.
Dick taught us about balance and subtlety. He would say a wine is great when nothing sticks out. He taught us about spoilage, how it is formed and how to prevent it in harmony with nature (the key is balanced pH.) He settled family debates about when to harvest, how much to water, blending and more.
Over the years, Dick became far more to our family than just a consulting winemaker. Our family will always cherish memories of visiting his and Sandy's Christmas Tree Farm at their home in Napa the first weekend after Thanksgiving to purchase our tree, sip hot cider, work jigsaw puzzles, and bring home a little mistletoe. When Dick and Sandy sold that home a few years ago, we were touched and honored to have been given two giant wooden candy-canes that once decorated his place for the holidays.
Dick is an icon with a heart of gold. He never sought the limelight but was happy to see those with whom he worked and mentored succeed.
I recommend his book, "The Winemaker." It is an absolute must-read for anyone who loves wine, life, history or a good story.