Growing up in Napa with a father who worked at a winery, Olivia Capiaux knew what field she wanted to study in college — enology. A fourth-year student in Cal Poly, San Luis Obispo's enology and viticulture program, she also is an intern helping make commercial wines at the college's newly opened Justin and J. Lohr Center for Wine and Viticulture.
"Even though we're working with (only 30 tons) of fruit, we're still doing most of the same operations," Capiaux said. "We're learning to operate pumps, how to close clamps on hoses and other types of technical things. We're operating all of the same equipment that's in a commercial winery. It's invaluable. It's just everything there that you'll encounter after college."
Taylor Robertson, also a fourth-year enology student and student intern, is equally excited about the opportunities the new facility provides.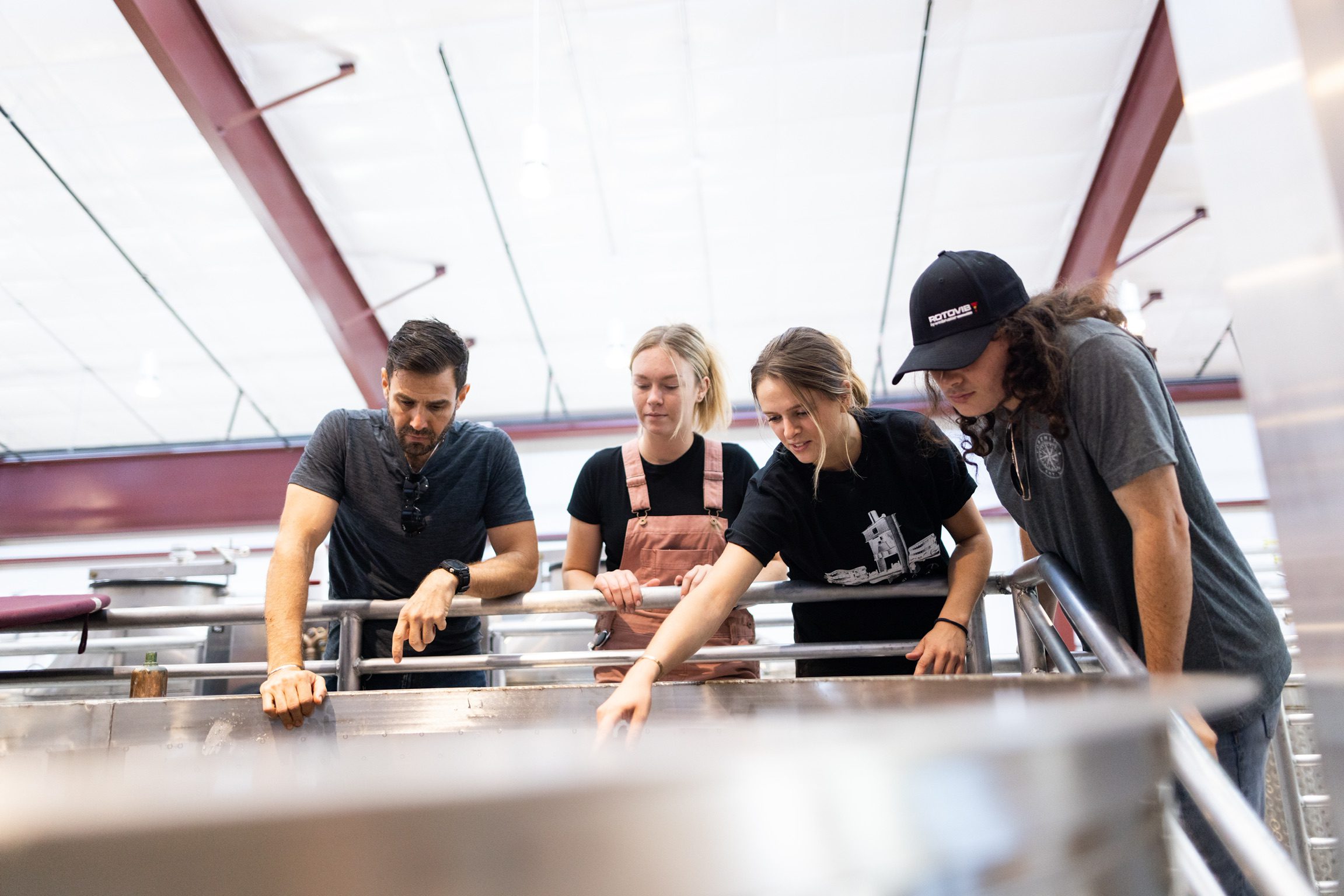 "I believe this is such a unique experience that many other people won't get to see in their winemaking career," said Robertson, who grew up in Nipomo but didn't come from an agricultural background. "We have not only this new facility but a new facility on a college campus that is supported by the industry around us. They want to see the students who are making wines with their donated fruit, so the connections are absolutely amazing."
Capiaux and Robertson are just two of the nearly 300 current undergraduate enology and viticulture students benefiting from the university's new 15,600-square-foot bonded winery.
"There is no newer winery in the educational system as this," said Jim Shumate, lecturer and winery supervisor. "We have all top-of-the-line equipment and tanks and everything for the students to learn on. It's really been amazing to see how generous the industry has been to us and how Cal Poly has really promoted this university and this winemaking program. This will really give them the best real-world experience before they go out into industry and hone their skills out there."
Shumate is joined by associate enology professor Federico Casassa, who teaches winemaking and sensory analysis and with whom he collaborates on wine production. Casassa also conducts enology research, particularly into wine chemistry and sensory analysis of varieties that grow well in the Central Coast.
Having everything under one roof makes teaching and winemaking much easier than the previous set-up, Casassa said.
"Before, we had a much smaller winery that was something closer to a garage winery of about 600 square feet," he said. "And honestly, it was a real hassle. We were working in this very confined space."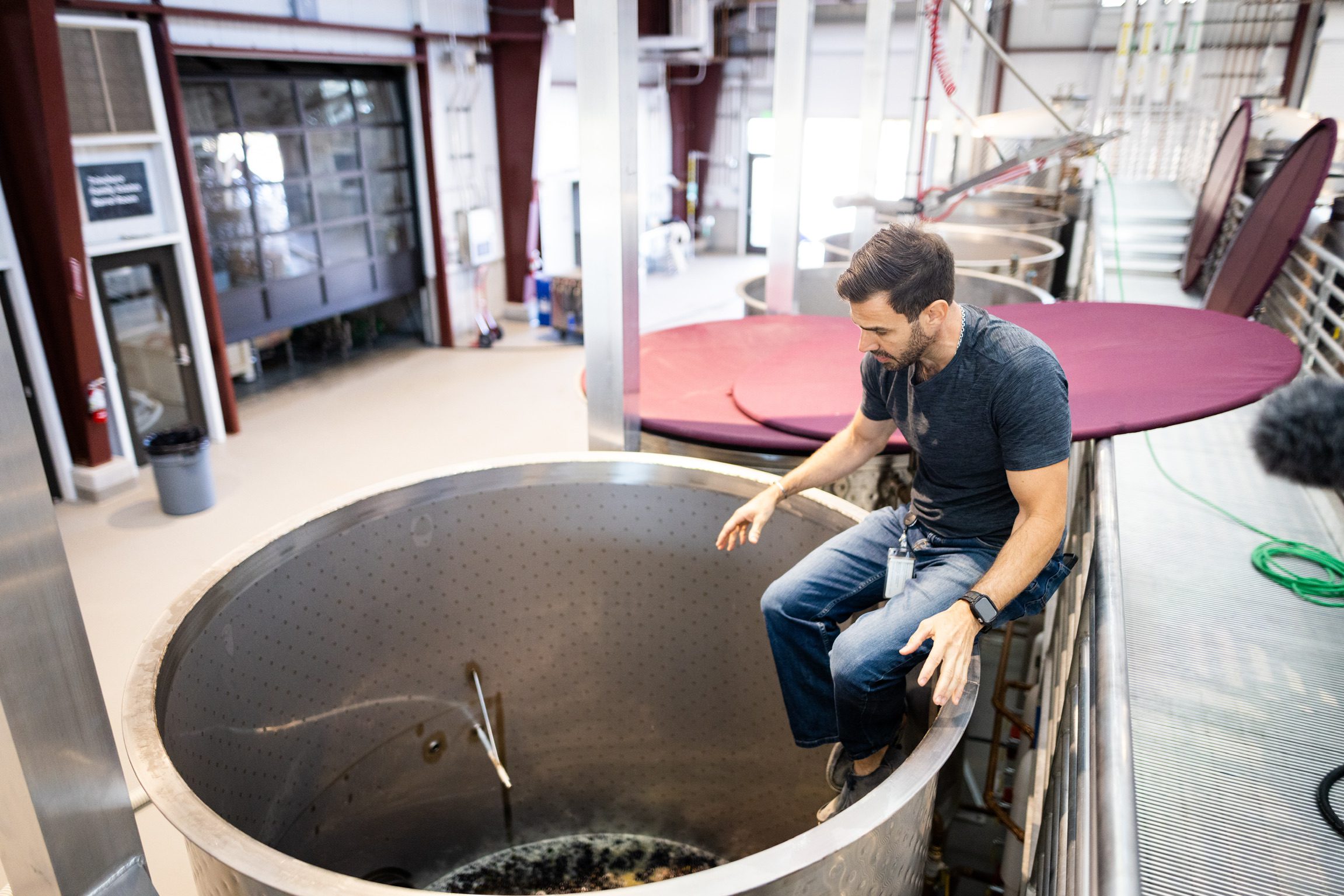 Cal Poly's 'Learn by Doing' Creed
Not only does the new facility streamline winemaking, but Casassa said it will benefit students in viticulture and enology classes. If he is discussing crushing or destemming in one of his winemaking sections, he said it's easy to take the students the 10 to 20 feet from the on-site classrooms to the production facility to show them what he was referring to.
"They're going to benefit from this the most because they have access to really state-of-the-art knowledge that's generated onsite, and they get to work in this facility that's brand new and cutting-edge," Casassa said. "This winery is 100% industry-supported, and we can give back to the industry by teaching the future generations of winemakers. We can make sure they come raring to go and hit the floor running. We also do research that's relevant to the industry and directly applies to them."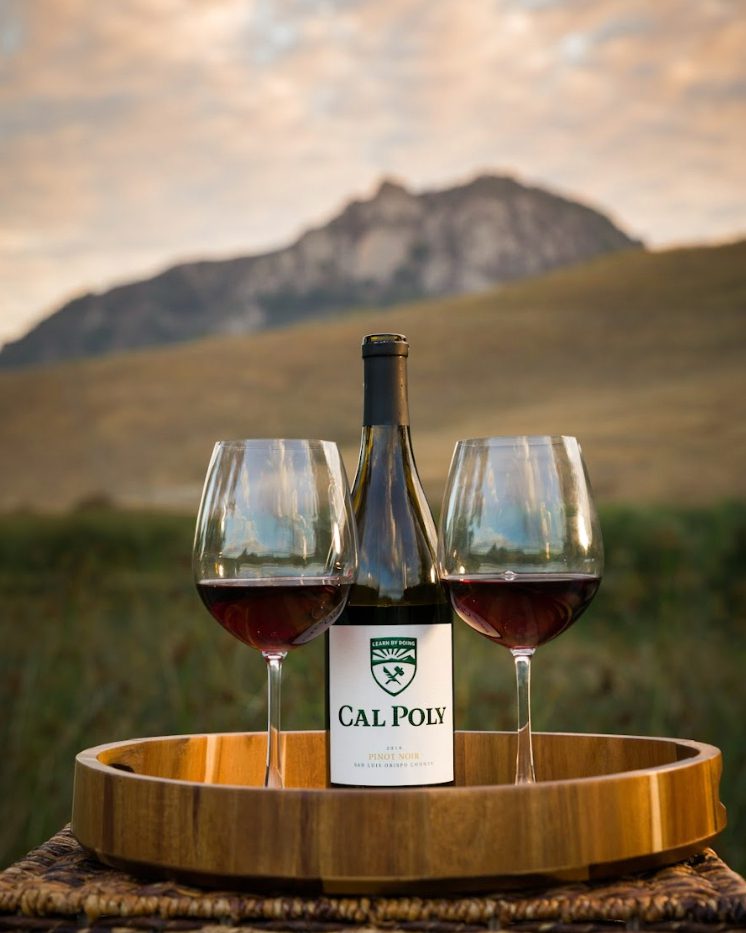 Shumate agreed, pointing to the student interns currently working with him in the commercial winery, reinforcing Cal Poly's "Learn by Doing" creed.
"That's one of the beautiful things; students get to do everything," he said. "We have them involved in every step of the way. So right now, they're doing the fermentations and they're getting ready to barrel down some of the wines. As we progress during the winemaking process, they'll be doing all of the topping of the barrels, doing more analysis."
Shumate said learning on real equipment that's the same size as that used in the industry gives students a leg up as they start their careers. Graduates end up working in wineries all over the world.
"It's great for them to get a great experience here so when they do go out, they don't require a ton of training," he said.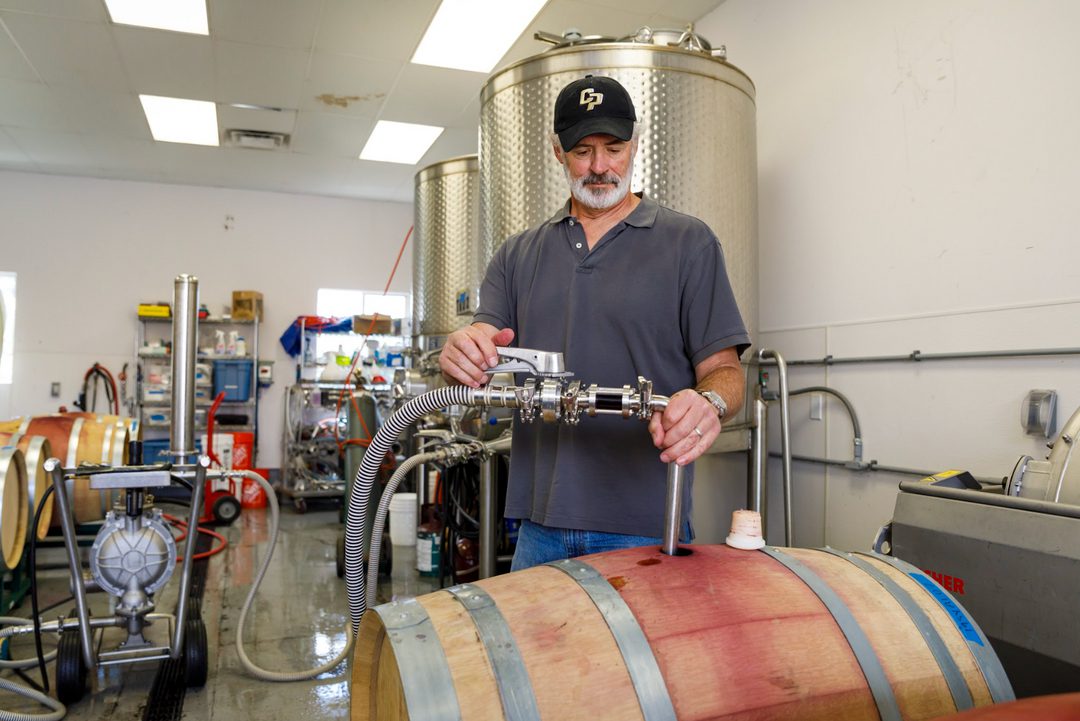 'Long Time in Coming'
With the opening of the Justin and J. Lohr Center, Cal Poly joins California State University, Fresno and the University of California, Davis as California universities with bonded on-campus wineries.
Cal Poly has nearly 300 undergraduate students alone in what it touts as the nation's largest undergraduate enology and viticulture program. It attracts students not only from the Central Coast but also from throughout the state and nation, Shumate said.
The new facility, which includes a fermentation hall, bottling room, barrel rooms and a research lab, crushed its first grapes this fall. The commercial Cal Poly wines sold locally and student class wines that aren't sold will be produced there as well as faculty and student research wines. It can produce up to 5,000 cases.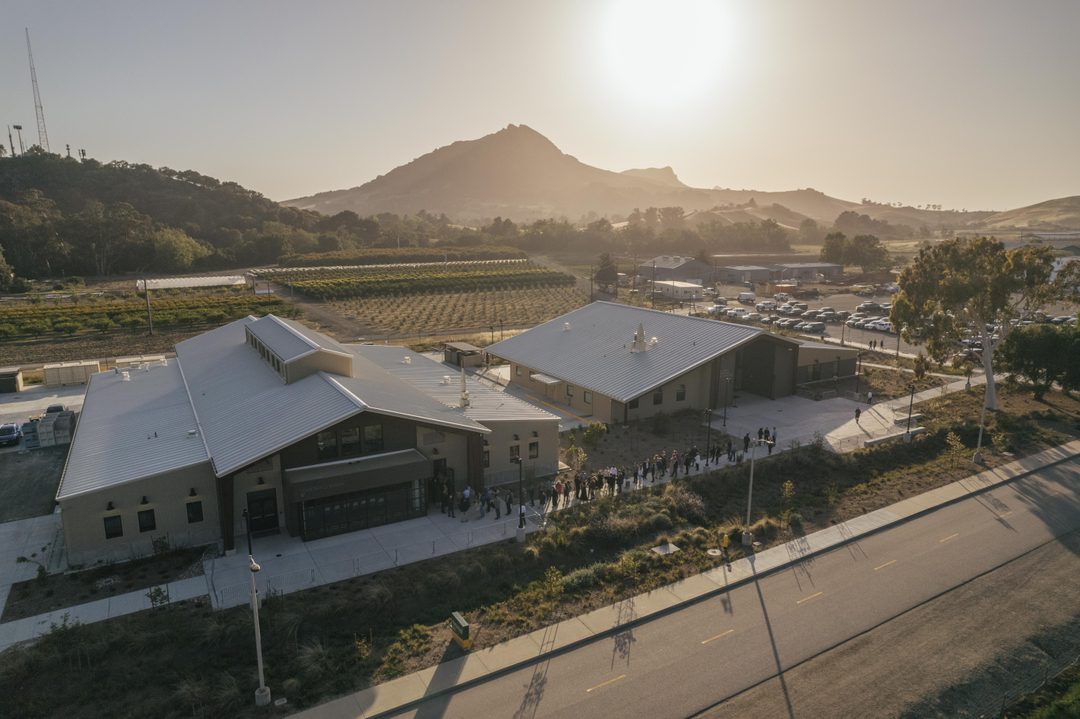 Adjacent to the winery is the 12,000-square-foot E. & J. Gallo Winery & Family Building, which houses viticulture and enology labs, lecture/reception areas and shared offices for faculty and students. It also has a meeting hall that includes a full catering kitchen.
The university has enough land to build a brewery/distillery adjacent to the winery in the future. Shumate said planning the center started back in about 2007 and has been "a long time in coming. We knew we needed a full-fledged facility on campus, so we started the planning stages back then."
No state moneys were used to build the roughly $22 million facility. Instead, they relied on donations, and Shumate credited Jerry Lohr of J. Lohr Vineyards and Wines for being the project's main driver.
"He was at it from the beginning, and he's been involved in every step of the way," Shumate said of Lohr, a long-time Cal Poly supporter. "Not only has he donated an extensive amount of money, but he's also been involved in the planning and working with a lot of the vendors and different people involved in the construction and design of the building. So, he has really been the main force behind this."
Justin Vineyards as well as E. & J. Gallo Winery also were involved but not to the same degree as Lohr, Shumate said. In addition, several other companies, prominent wine industry members and community members provided financial support.
"We have a full donor wall with all the donors' names, and every tank and room in the building is named after a different donor based on how much they actually donated to the project," he said.
Commercial Cal Poly Wines
The winery sources grapes from the on-campus Trellis Vineyard, which is custom farmed by a management company. It also receives grape donations from throughout the state.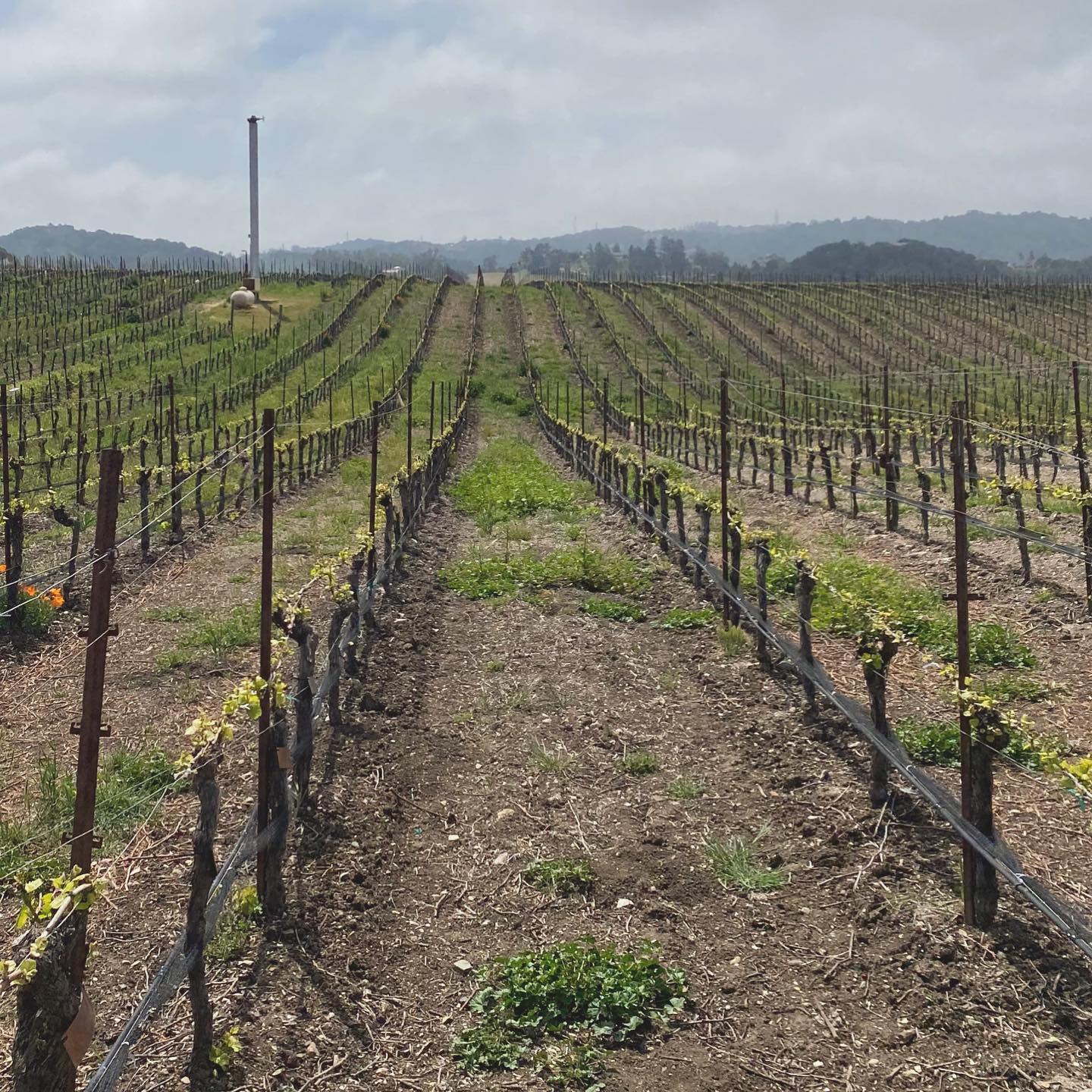 For the commercial Cal Poly wines this year, Shumate said they're making pinot noir, chardonnay, sauvignon blanc and a rosé of pinot noir. They'll probably bottle the whites shortly after New Year's, while the pinot will stay in the barrel a bit longer. The 2022 vintage will be available in mid-2023.
The award-winning wines, which are sold at local markets and restaurants and through Cal Poly's wine club, aren't intended to compete with the industry "because they've been so generous in donating their equipment and money and all of this to the facility," Shumate said. "But we want to highlight what the production facility is capable of doing and what our students are capable of doing and give them a real-world experience as they go out into their careers.
"The wines that we're producing are fantastic. They really are high-quality wines at a reasonable price."