The European Union (EU) has a deadline of Dec. 8, 2023 to add nutritional and ingredient labeling to wine, information that will be displayed on the bottle in the form of a QR code. Labels will list both ingredients and processing aids, said Monika Christmann, the former head of the International Organization of Vine and Wine (OIV), at the recent American Society of Enology and Viticulture (ASEV) conference held in Napa.
These QR codes will apply to any wines imported into the EU from the U.S. (or elsewhere).
The EU looks to OIV to set the standards. OIV rules require a unanimous vote to create standards, ensuring all 51 member countries (not including the U.S.) are aligned.
"As of December this year, we have to not only put on the calorie stamp, but also the question of what is an additive and what is a processing aid on the label," Christmann said. This is problematic because the industry has repeatedly told consumers wine is natural, she said.

"For too long, we have told the consumers wine is a natural product," she said. "And now we have to explain why we are using techniques. So that's a little bit of a homemade problem."
It may also impact the way wines are made, she said, as producers will need to state additives and processing aids on the QR code and may modify winemaking practices to omit listing additives they previously used.
The industry lobbied for QR codes rather than bottle labeling nutritional and ingredients information.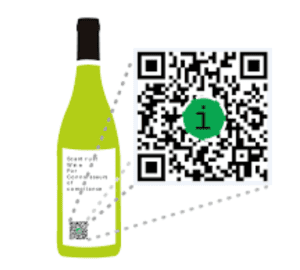 "If you're an exporter, you're going to have to have different labels for the EU than you will in the U.S.," said Michael Kaiser, executive vice president and director of government affairs for the wine industry lobbying group Wine America.
In the U.S., the Alcohol and Tobacco Tax and Trade Bureau (TTB) announced last fall that mandatory nutritional labeling in wine is coming, but experts are unable to predict when this might happen or when research for rulings will begin.
What Do Consumers Want
Christmann said consumers will be interested in statements about additives, and one of the most common is acid additions. "…what is the consumer going to say about it? Are they accepting that? Do they really like that?…that will impact our winemaking dramatically in the future."
In 2022 the Wine Market Council in the U.S. surveyed 1,000 wine consumers in the U.S. to better understand how consumers view wine labeling. The survey found 52% of respondents were looking for nutritional info.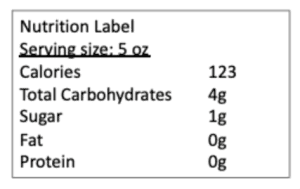 That ties into trends in both the U.S. and the EU, where consumers are seeking greater transparency about food and beverages they consume. Kaiser said the lack of transparency can be a turnoff for the market segment the wine industry is most rapidly losing (younger drinkers), and he added it could be a factor in the trend toward forgoing alcoholic consumption altogether or switching to non-alcoholic beverages.
In a 2023 survey, Wine America found 63% of its member respondents were opposed to disclosing ingredient information. In addition, 80% of wineries responding expressed negative feedback about the prospect of the U.S. following the EU example of requiring QR codes.
Dietary Concerns Decreased After Reading Nutritional Labeling
That does not align with what consumers want, according to Wine Market Council research which found the slight majority (52%) were looking for nutritional info. The most sought-after data was calories. In addition, 28% were looking for added sugar. Another 11% looked for data on carbohydrates. Women were more likely to look for sugar content (31%) than men (23%).
Presented with a generic nutritional wine label, showing 123 calories, 4g of carbohydrates, 1g of sugar and 0g of fat and protein, consumer reactions were varied.
Overall, consumers generally expected wine to have more sugar than it does.
On the caloric scale, 47% had a positive reaction to the statement that the wine had 123 calories, 17% a negative reaction and 36% were neutral.
The study looked at consumer perceptions of which alcoholic beverages had the most calories, carbs, sugar and artificial ingredients. 47% thought wine had sugar and 22% thought wine had carbohydrates.
After seeing the sample labeling information, their reactions changed. The highest positives were that 63% had a positive reaction to the labeling that showed there was only 1g of sugar and 74% had a positive reaction to the 0g fat label.
The study respondents were split 50/50 between core wine drinkers (once per week or more often) and marginal wine drinkers (less than once a week). The respondents were 60% female and 40% male. One-third were 21 to 39 years of age, one-third 40 to 59 and one-third 60 and older.
Additional Wine Market Council research in the U.S. showed consumers do not feel comfortable with listed ingredients with chemical names. The study found the QR codes were more popular with the younger generation of consumers.